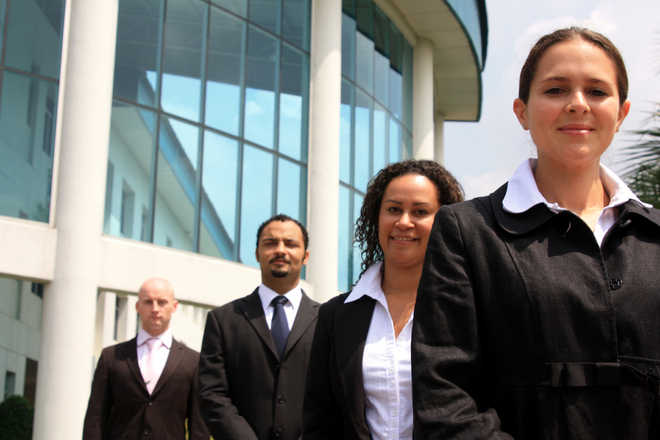 Ramakrishnan Raman
If you have an MBA from a reputed Indian B School; you will be among the corporate's most sought-after prospects. In spite of automation and Industry 4.0 trends influencing jobs, an MBA from reputed Indian B Schools can ensure a career like no other postgraduate degree can! It's not just management jobs that would require an MBA, but many other positions in the industry as well. here's a look at some of these:
Banking, Finance and Accounting positions
Large conglomerates, financial institutions and banks typically require people with erudite management skills along with strong knowledge in accounting and finance. Such a skill set is mainly found in MBA graduates who specialise in finance. MBA finance graduates are needed to take up the roles of an Investment Banker or a Fund Manager. Job roles like Financial Executive, Portfolio Manager, Equity Researcher, Strategic Financial Planner and Advisor, Capital Market Specialist, Strategic Financial advisor would undoubtedly need an MBA.
Global Management and Business Operations jobs
Today we have many foreign companies who have set up their manufacturing plants in India. With the Indian government going strong with their 'Make in India' campaign, the country continues to attract large organisations who are setting up their plants across the length and berth of the nation.
India also has large captive centres of large companies, who have their presence across the metros and tier 2 cites. All these companies would require MBA operations graduates who can coordinate and manage their operations and logistics which are transnational in nature.
All these companies require people with good communication skills and tact to coordinate the functions of various departments and to negotiate with vendors, suppliers and clients.
Job titles like Global Business Manager, Global Operations Manager, Supply Chain And Logistics Manager, Global Distributions Manager would certainly require an MBA.
Digital Marketing
Social Media Marketing, Content Marketing and other forms of marketing always needs an MBA, who can give a competitive edge to the organisations, as these graduates have good communication skills and have the ability promote goods and services. From banners to big data, digital marketing has unceasingly adapted to meet the needs of customers and brands alike. Today, with increased connectivity and established digital infrastructure, changes are happening much faster than ever before.
To manage these changes MBA are being hired. The job titles that would need an MBA, include Digital Marketing Manager, Content Strategist, Email Marketing Specialist, SEO and SEM Specialist, Social Media Manager among others.
HR Management
Managing human resources is an important activity for any organisation. The skill set and knowledge that is required to understand the expectations of millennial and managing them certainly needs an MBA.
With the advent of Industry 4.0 the function of human resource management is not just about managing men and women, it's also about the art of creating the culture to work with smart machines and automated processes.
Hence job roles like Manager Employee Relations, Industrial Relations Managers, Organizational Consultant, Manager- Training and Placement etc will need an MBA
Market Research
Organisations look at Market Research as a strategy to stay ahead of competition. Many organisations take up market research to understand more about the changing needs of the customers and the market.
Large organisations take the help from research agencies to get this information who largely depend on MBA graduates who are trained in creating questionnaire and possess analytical and statistical knowledge to get insights from the data.
Marketing Research Executive, Research Manager, Research Analyst are a few job titles offered in this space and all of them require an MBA
Sales and Marketing
Almost all FMCG (Fast Moving Consumer Goods) and FMCD (Fast Moving Consumer Durables) companies have their sales and marketing team. Job roles like Sales Manager, Marketing Manager, Sales Strategist, Marketing Specialist need an MBA.
Information Risk and Information Security
Organisations today find it hard to manage information security challenges —  technically and strategically — whilst focusing their attention on the business aspect. They need MBA candidates who have technical skills and business management skills. An MBA graduate specialising in Information Security would have the necessary competencies to draw inferences between information security and business risks. Information Risk Specialist, Business Analyst, Manager Information Audit, Information Security Manager are all the roles needing an MBA with appropriate specialisation.
Healthcare
The healthcare segment is witnessing a big change with Modicare and Ayushman Bharat scheme. Graduates who have their basic qualification related to health care along with an MBA will be sought-after by hospital and pharma companies for positions like Hospital Administrator, Pharmaceutical Project Manager, Manager Patient care, Healthcare Policy Analyst, Health Services Managers, Health Services Administrators.
Analytics & Information Management roles
Many companies are adopting and unleashing the power of big data for creating business strategies. Subjects related to data science, R programing, and business analytics are now a part of the MBA curriculum. Organisations need MBAs who have good soft skills to take the role of data analysts and market research analysts and help organizations to identify new opportunities and give their competitors a run for their money
Sports Management
Sports is big business these days. Today sports management is one of the largest revenue generating businesses and there is a significant need for MBA by sport management companies, to make sure they continue to operate in an efficient way. Sports organizations require MBA graduates to manage and run their companies. MBA sports management would be the best fit for the job roles including Sports Manager, Sport Publicist, Event Planner and Manager, Stadium Operations Executive and Public Relations Manager.
["source=tribuneindia"]