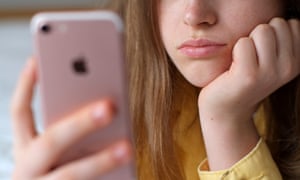 By suggesting that social media "addiction" might be treated as a disease (Report, 18 March), MPs risk doing society a grave disservice. Conceptualising this disorder as a disease suggests the origin of the problem lies within people. As Professor Mike Oliver (who died earlier this month) advocated, we should treat disabling phenomena as products of society, not as a problem of individuals. As the MPs' report acknowledges, tech companies have a highly significant role in encouraging the use of social media. Young people then become the innocent victims of commercial and social pressures. There is growing evidence of increasing mental ill-health in society, and among young people in particular. Trying to cure or inoculate them from a supposed disease puts the cart before the horse. There is an increasingly urgent need to address the social and economic factors that may be causing the distress without further scapegoating young people themselves.
When democracy and data privacy…
… come under threat, we must keep challenging those who undermine it. It's been a year since The Observer and The Guardian broke the story that became the Cambridge Analytica scandal, exposing the truth and shedding light on the reality of foul play within the tech industry. We saw how personal data could be harvested on an unprecedented scale to fulfil the ambitions of the powerful. Through this courageous investigative reporting, we shamed Facebook, and prompted a global conversation about the importance of data privacy, holding tech companies to account and pressuring governments to enact regulation.
The Guardian is committed to continuing this vital work; we will keep persevering, uncovering and challenging those with so much power in the tech industry. This has never been so pressing: we're living in a time when the integrity of our democracy and the legitimacy of our votes are in question. Political campaigns reside in our many digital feeds and, with each year, this will become ever more prominent. The world needs journalism that promotes transparency and investigates where others won't go. Reader support means The Guardian can keep investigating the critical issues of our time.
The Guardian is editorially independent, meaning we set our own agenda. Our journalism is free from commercial bias and not influenced by billionaire owners, politicians or shareholders. No one edits our editor. No one steers our opinion. This is important as it enables us to give a voice to those less heard, challenge the powerful and hold them to account. It's what makes us different to so many others in the media, at a time when factual, honest reporting is critical.
Every contribution we receive from readers like you, big or small, goes directly into funding our journalism. This support enables us to keep working as we do – but we must maintain and build on it for every year to come.
["source=theguardian"]